---
---
Brechnar Ironhammer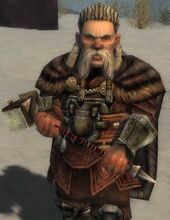 Classification
General
Brechnar Ironhammer is the brother of King Jalis Ironhammer of the Deldrimor Dwarves. He lets the players into Grooble's Gulch at the end of the Borlis Pass (mission), and reappears throughout the Southern Shiverpeaks missions. When players finish the Thunderhead Keep (mission) and advance to the Ring of Fire Islands, he volunteers to accompany them. There, like Saidra, he throws himself at the Mursaat, sacrificing his life to help the players succeed in their mission. His cry of "Taste my axe!", his last words, are the first thing players see upon entering the Ring of Fire mission. (Although he never actually wields an axe.) During the Ring of Fire (mission), he charges at the attacking Mursaat. He runs west for about six seconds, and then instantaneously dies, regardless of health.
Location
Ad blocker interference detected!
Wikia is a free-to-use site that makes money from advertising. We have a modified experience for viewers using ad blockers

Wikia is not accessible if you've made further modifications. Remove the custom ad blocker rule(s) and the page will load as expected.