Brave Brent Poltroon
Classification
Map(s)

Location in Grothmar Wardowns
Brave Brent Poltroon
Classification
Map(s)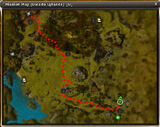 Location in Dalada Uplands
General
Brave Brent Poltroon is a member of Sergeant Weststar's patrol. He is first encountered outside of Longeye's Ledge, but once the group's dialogue completes, he appears as a "corpse" that is located in Dalada Uplands very near the south-east corner exit to Sacnoth Valley.
Quests Given
Location
Trivia
His surname means Coward in French.
The group is comprised of characters similar to those in the game Resident Evil, with Chance Redding as Chris Redfield, Jenn Valefield as Jill Valentine, and Sergeant Weststar as Wesker. Brave Brent Poltroon would be Brad Vickers' counterpart, as he is seen as cowardly and ends up dying later on.
Ad blocker interference detected!
Wikia is a free-to-use site that makes money from advertising. We have a modified experience for viewers using ad blockers

Wikia is not accessible if you've made further modifications. Remove the custom ad blocker rule(s) and the page will load as expected.