Bound Warrior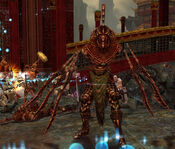 Classification
Description
Bound Warriors are bound spirits that replace banished players of the Warrior, Dervish and Paragon professions during the Imperial Sanctum mission.
Location
Skills used
Items dropped
Notes
Killing this creature will bring back the player that was banished.
Even though they are not marked with a special aura, the death of these creatures will give a Morale Boost and recharge all skills (including Resurrection Signets and Celestial skills) like the death of a boss. In addition, they do double damage.
Signet of Capture cannot be used on them.
Ad blocker interference detected!
Wikia is a free-to-use site that makes money from advertising. We have a modified experience for viewers using ad blockers

Wikia is not accessible if you've made further modifications. Remove the custom ad blocker rule(s) and the page will load as expected.