Bound Vizu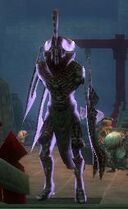 Classification
Map(s)

Location in Taknnakai Temple
Description
Bound Vizu is the bound spirit of the ancient Canthan hero, Vizu, who was the key to defeating Shiro Tagachi 200 years earlier. In the Tahnnakai Temple mission, players encounter this construct as the final boss as Shiro tries to use it to bind Vizu's spirit to his will.
Location
Skills used
Items dropped
Notes
If you wish to capture the elite skill Shroud of Silence from it, be sure not to kill it last or the cutscene will trigger, thus ending the mission.
Ad blocker interference detected!
Wikia is a free-to-use site that makes money from advertising. We have a modified experience for viewers using ad blockers

Wikia is not accessible if you've made further modifications. Remove the custom ad blocker rule(s) and the page will load as expected.