Bonetti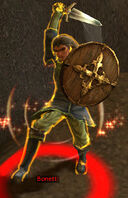 Classification
Description
Bonetti is a boss of the Renegade Bandits.
Location
Skills used
Items dropped
Notes
Bonetti will spawn in random locations in Old Ascalon.
Trivia
This character is a reference to the film The Princess Bride. In the scene where Inigo is fencing with the Man in Black he asks, "You're using Bonetti's Defense against me, ah?"
The Guild Wars character Farrah Cappo is a reference to another fencing master identified in the same scene: "Naturally, you must expect me to attack with Capo Ferro."
Rocco Bonetti and Ridolfo Capo Ferro were both Renaissance Italian fencing masters.
Ad blocker interference detected!
Wikia is a free-to-use site that makes money from advertising. We have a modified experience for viewers using ad blockers

Wikia is not accessible if you've made further modifications. Remove the custom ad blocker rule(s) and the page will load as expected.