Bone Horror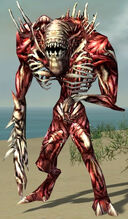 Classification
Description
Bone Horrors are minions created by the Necromancer Skills Animate Bone Horror, Malign Intervention and Aura of the Lich. They can be encountered as enemies (raised by opposing necromancers) or allies.
Data
Damage
Bone horrors are melee fighters.
Bone horrors deal Blunt damage.
Bone Horror damage versus an AL60 target in the Isle of the Nameless ranges from 17 to 49, including both critical and non-critical hits, with a mean damage of 27.5. The critical hit rate and specific critical and non-critical damage ranges are currently unknown.
Health & Armor
Bone Horrors have roughly level*20 + 80 health and level*4 armor.
Level 18 Bone Horrors have approximately 440 health and 72 armor.
Attack speed
Bone Horrors attack roughly 1 attack per 3.17 seconds (30 attacks in 95 seconds).
Decomposing rate
At level 18, Bone Horrors live for 1 minute 24 seconds.
Behavior
Like all minions, they will attack any enemy without command, and it is impossible to disengage them.
Notes
Ad blocker interference detected!
Wikia is a free-to-use site that makes money from advertising. We have a modified experience for viewers using ad blockers

Wikia is not accessible if you've made further modifications. Remove the custom ad blocker rule(s) and the page will load as expected.