Bone Fiend (monster)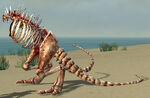 Classification
Description
Servants of the Necromancer Avarr the Fallen. Also appear in the final area of the Cathedral of Flames.
Location
Skills used
<none>
Items dropped
Any standard drops from the area, including rare weapons and skill tomes.
Notes
Although they look and behave like summoned Bone Fiends, these are regular monsters, so they...
Ad blocker interference detected!
Wikia is a free-to-use site that makes money from advertising. We have a modified experience for viewers using ad blockers

Wikia is not accessible if you've made further modifications. Remove the custom ad blocker rule(s) and the page will load as expected.