Bodrus the Outfitter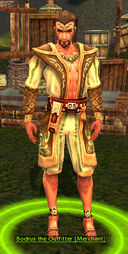 Classification
General
Bodrus the Outfitter is a Krytan merchant and has a quest to offer.
Like all merchants, he buys and sells goods at a fixed price.
Quests Given
Location
Goods Offered
Bodrus the Outfitter's assortment of goods differs from the standard for merchants in the Kryta region:
He offers a Bag instead of the Rune of Holding.
Ad blocker interference detected!
Wikia is a free-to-use site that makes money from advertising. We have a modified experience for viewers using ad blockers

Wikia is not accessible if you've made further modifications. Remove the custom ad blocker rule(s) and the page will load as expected.