---
Warning: The following text contains spoilers relating to the plot of the Prophecies Campaign.
---
Blade Operative Paulina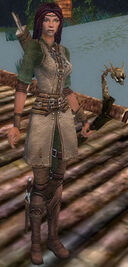 Classification
General
Blade Operative Paulina is a Shining Blade who briefs players on the Sanctum Cay mission.
Location
Dialogue
What makes you so sure of our victory?
Tell me about Orr.
Its last days? What happened in Orr?
Who is this Vizier?
What must I do?
I'll take the Scepter to him.