Black Bear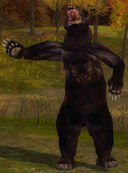 Classification
Black Bears are charmable animals native to the Southern Shiverpeaks that occasionally wander through the Kingdom of Ascalon. When encountered outside their natural habitat, they tend to be more aggressive than normal, allowing them to break free of most charming attempts.
Location
Skills used
Items dropped
Notes
---
Ad blocker interference detected!
Wikia is a free-to-use site that makes money from advertising. We have a modified experience for viewers using ad blockers

Wikia is not accessible if you've made further modifications. Remove the custom ad blocker rule(s) and the page will load as expected.