Benton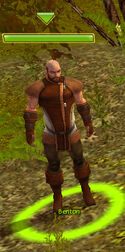 Classification
Benton is a drunk hunter who can be found southwest of Fort Ranik. He is part of a group of drunk men that provide the quest The Bear Hunters.
Location
His ghost can be found in the Underworld. According to him, he was a great warrior who lost his life defending the wall. Other ghosts in the area include: Lost Soul, Sarah, Renault and Anson.
Location
Dialogue
He has a dialogue with Sarah in the Underworld.
Ad blocker interference detected!
Wikia is a free-to-use site that makes money from advertising. We have a modified experience for viewers using ad blockers

Wikia is not accessible if you've made further modifications. Remove the custom ad blocker rule(s) and the page will load as expected.