Behruseh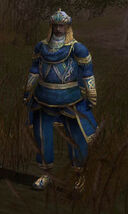 Classification
Map(s)


(click to enlarge)
Dialogue
"I have only my own success to blame, you know. No one can make a firmer, more comfortable bed than I. Not in Vabbi. Not in all of Elona. But now I'm out of stock, I have dozens of orders, and I can't make a single mattress until I get more giant jawbones. They're the foundation for the entire bed. My last supplier seems to have disappeared. Would you be interested in taking his place? If you bring me 2 Bull Trainer Giant Jawbones, I will repay you handsomely with:"
Collector Items
Behruseh
Location: Wilderness of Bahdza, northeast from Dzagonur Bastion
Collecting: 2 Bull Trainer Giant Jawbones
Ad blocker interference detected!
Wikia is a free-to-use site that makes money from advertising. We have a modified experience for viewers using ad blockers

Wikia is not accessible if you've made further modifications. Remove the custom ad blocker rule(s) and the page will load as expected.