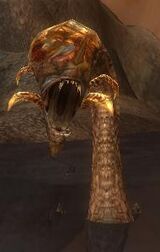 Behemoths (a.k.a. Burrowers) are a class of monster, i.e. a species in the bestiary of Guild Wars.
They are huge beasts that live mainly underground, with only a claw-armed head on a serpent-like body above the surface. The actual shape and size of their bodies is unknown. Usually they will be found waiting dormant, with the neck retracted and the head resting on the ground on a collar of spiky rocks, only springing to life when prey comes within range of their powerful ranged attack. This appearance makes them look almost like harmless piles of rocks from a distance.
Characteristics
Behemoths are stationary beings, that don't leave their place under any circumstances, not even to pursuit fleeing foes or to escape from AoE damage, which makes them very vulnerable.
Most Behemoths are ranger or warriors. The warriors are tough defenders and not so easy targets for melee attackers. Also, due to their high level and high armor they can take quite a beating. Nonetheless, the fact that they are immobile makes them quite easy to defeat. Use AoE skills to quickly take them out.
Furthermore Behemoths ...
Items dropped
Behemoths may drop the following loot (besides gold and various weapons and items):
Known Sub-Types

For an alphabetic list of all Behemoths, including bosses, see also: category:Behemoths
Ad blocker interference detected!
Wikia is a free-to-use site that makes money from advertising. We have a modified experience for viewers using ad blockers

Wikia is not accessible if you've made further modifications. Remove the custom ad blocker rule(s) and the page will load as expected.