Behba the Hardheaded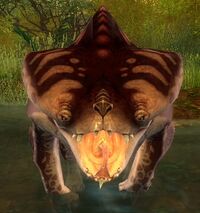 Classification
Description
Behba the Hardheaded is surrounded by various Skales and Istani Cultists.
Location
Skills used
Trivia
The Istani Cultists surrounding him are all separate from one another, making it possible to pull them one at a time. When the boss is attacked however, the Cultists will bow and then join him/her in battle.
Items dropped
Ad blocker interference detected!
Wikia is a free-to-use site that makes money from advertising. We have a modified experience for viewers using ad blockers

Wikia is not accessible if you've made further modifications. Remove the custom ad blocker rule(s) and the page will load as expected.