Bauyun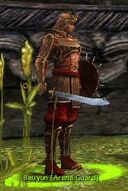 Classification
Bauyun is the Arena Guard in Shing Jea Monastery. He can be found in the southern area of the town and can teleport players to the Shing Jea Arena. The arena he sends you to only allows players with levels 1-10 to compete.
Location
Dialogue
"I can take you to the Shing Jea Arena, where monastery students assemble to fight on another. Would you like to go there now?"
Ad blocker interference detected!
Wikia is a free-to-use site that makes money from advertising. We have a modified experience for viewers using ad blockers

Wikia is not accessible if you've made further modifications. Remove the custom ad blocker rule(s) and the page will load as expected.