Ad blocker interference detected!
Wikia is a free-to-use site that makes money from advertising. We have a modified experience for viewers using ad blockers

Wikia is not accessible if you've made further modifications. Remove the custom ad blocker rule(s) and the page will load as expected.
Bartoch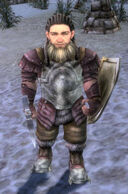 Classification
General
Bartoch is the skill trainer in the mountainous Dwarven city of Droknar's Forge.
Location
He is in the far North East corner in the Training Yard beyond Merchant's Row.
Skills offered
Note: Any skills that are not available as quest rewards are listed in bold.
Trainer
Warrior
Ranger
Monk
Necromancer
Mesmer
Elementalist
Bartoch at Droknar's Forge
"Fear Me!", "Shields Up!", "To the Limit!", Balanced Stance, Bull's Strike, Defensive Stance, Savage Slash, Shield Bash
Choking Gas, Concussion Shot, Dust Trap, Edge of Extinction, Flame Trap, Precision Shot, Tiger's Fury, Winnowing
Balthazar's Aura, Blessed Aura, Blessed Signet, Healing Touch, Mend Condition, Scourge Healing, Vengeance, Zealot's Fire
Animate Bone Fiend, Animate Bone Minions, Chilblains, Demonic Flesh, Malaise, Price of Failure, Signet of Agony, Touch of Agony, Well of the Profane
Arcane Conundrum, Blackout, Elemental Resistance, Ether Lord, Guilt, Mantra of Earth, Mantra of Persistence, Mind Wrack
Deep Freeze, Earthquake, Fire Attunement, Flame Burst, Incendiary Bonds, Obsidian Flame, Swirling Aura, Windborne Speed