Barlom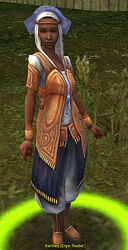 Classification
General
Barlom is the Dye Trader in Kamadan.
Quests Given
Location
Dialogue
After acceptance and before completion of quest To Dye For:
"My dyes are the most vibrant and easily mixed you'll ever find. My family has been in the dye-making business for generations. Our recipes are coveted by dye traders all over the world."
Ad blocker interference detected!
Wikia is a free-to-use site that makes money from advertising. We have a modified experience for viewers using ad blockers

Wikia is not accessible if you've made further modifications. Remove the custom ad blocker rule(s) and the page will load as expected.