Ad blocker interference detected!
Wikia is a free-to-use site that makes money from advertising. We have a modified experience for viewers using ad blockers

Wikia is not accessible if you've made further modifications. Remove the custom ad blocker rule(s) and the page will load as expected.
Axton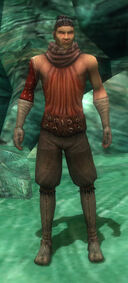 Classification
Dialogue
"The kappa are savage creatures that serve the sea spirit Zhu Hanuku. Wearing a kappa shell around your neck will attune you to the subtle vibrations of the Jade Sea, allowing you to sense danger before it strikes. Bring me 5 Archaic Kappa Shells and you can have this in return:"
Collector Items
Axton
Location: Archipelagos right outside the northern exit of Jade Flats (Luxon)
Collecting: 5 Archaic Kappa Shells