Awata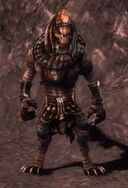 Classification
General
Awata is one of the Undead leaders of Palawa Joko. Since the player's arrival in the Desolation, Monoliths have strangely animated and been attacking his troops. He's looking for help in destroying them.
Quests Given
Location
Dialogue
"Time barely exists in this place. I have wandered endlessly that my life's memories are forfeit."
Ad blocker interference detected!
Wikia is a free-to-use site that makes money from advertising. We have a modified experience for viewers using ad blockers

Wikia is not accessible if you've made further modifications. Remove the custom ad blocker rule(s) and the page will load as expected.