Awakened Head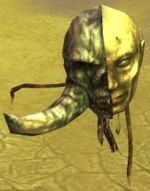 Classification
Description
Awakened Heads are the heads of Awakened Gray Giant which sometimes drop off when the giant is very low on health and fight as a separate monster.
Location
Skills used
Items dropped
Notes
Awakened Heads will yield experience and (with a bounty) Sunspear promotion points, however they do not seem to drop loot.
The Macabre Tonic turns your character into a modified Awakened Head.
Ad blocker interference detected!
Wikia is a free-to-use site that makes money from advertising. We have a modified experience for viewers using ad blockers

Wikia is not accessible if you've made further modifications. Remove the custom ad blocker rule(s) and the page will load as expected.