---
Warning: The following text contains spoilers relating to the plot of Nightfall.
---
Avatar of Kormir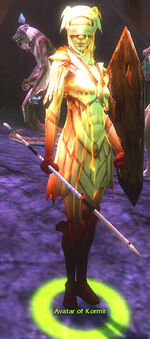 Classification
General
The Avatar of Kormir is the Avatar of the new god Kormir in Elona (the Goddess of Truth). It can be summoned by kneeling at the Statue of the Goddess of Truth in the Throne Of Secrets.
Location
Dialogue
"Ahai, my friend. Life brings us many twists. My new station has not blinded me. My eyes have adjusted to the darkness between the stars. I sense celestial movement beyond comprehension.... Without you, none of this would be possible. You will forever be my chosen ones. If you have need of me, come to the Chantry of Secrets and kneel before my statue. I will always listen."
Ad blocker interference detected!
Wikia is a free-to-use site that makes money from advertising. We have a modified experience for viewers using ad blockers

Wikia is not accessible if you've made further modifications. Remove the custom ad blocker rule(s) and the page will load as expected.