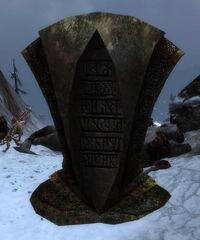 Description
Avalanche Warnings are warning signs of stone, put up in certain places in the Far Shiverpeaks and inscribed with runes.
Dialogue
"Danger! Loose snow pack. High risk of avalanche."
Location
Ad blocker interference detected!
Wikia is a free-to-use site that makes money from advertising. We have a modified experience for viewers using ad blockers

Wikia is not accessible if you've made further modifications. Remove the custom ad blocker rule(s) and the page will load as expected.