Attendant Chien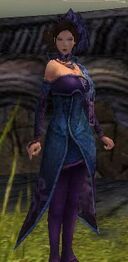 Classification
Dialogue
"I have been sent here by the esteemed Canthan Ministry to find proof of a legendary creature called the Oni, which is believed to be involved in several homicide cases across Cantha. The ministry would be most appreciative of anyone who could provide proof of its existence. If you can bring me 1 Oni Claws, I will give you this in return:"
Collector Items
Attendant Chien
Location: Seitung Harbor
Collecting: 1 Oni Claw
Ad blocker interference detected!
Wikia is a free-to-use site that makes money from advertising. We have a modified experience for viewers using ad blockers

Wikia is not accessible if you've made further modifications. Remove the custom ad blocker rule(s) and the page will load as expected.