Asterius the Mighty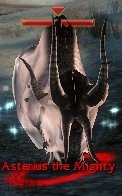 Classification
Description
Asterius the Mighty is a Berserker dervish boss. He can be found with four Berserking Bison, patrolling the southwest quadrant of Varajar Fells from just outside Olafstead, west to the Jotun Cave near the portal to Verdant Cascades, and north to the frozen lake.
Locations
Skills used
Items dropped
Notes
Ad blocker interference detected!
Wikia is a free-to-use site that makes money from advertising. We have a modified experience for viewers using ad blockers

Wikia is not accessible if you've made further modifications. Remove the custom ad blocker rule(s) and the page will load as expected.