Assistant Lenahn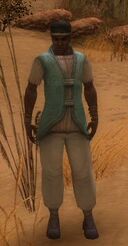 Classification
General
Assistant Lenahn is a capable miner and aide to Belgun the Quarry Master. His brother is Jenahn.
Quests Involved In
Location
Dialogue
"I'll never forget what those Kournan dogs did to my brother. Please do what you can to stop them. You're the only hope we have."
Ad blocker interference detected!
Wikia is a free-to-use site that makes money from advertising. We have a modified experience for viewers using ad blockers

Wikia is not accessible if you've made further modifications. Remove the custom ad blocker rule(s) and the page will load as expected.