Ascalonian Soldier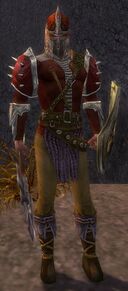 Classification
General
Ascalonian Soldiers are warriors of the Ascalon Army. They serve in both King Adelbern's Ascalon Guard and Prince Rurik's Ascalon Vanguard, and appear in multiple locations.
They wield various types of swords/axes and shields.
Location
Skills used
Dialogue
During battle:
"Bring me your woes some other time, friend."
"Duty calls."
"Fight, damn it!"
"Fight now. Talk later."
"If you haven't noticed, I'm busy at the moment."
"Help. A little help here."
"Let's give 'em a whooping!"
"Not now!"
"Now is not the time for idle chatter!"
"Spill the blood of our foes!"
"Stop Wagging your tongue and start whooping some butt!"
"Tell me later. Right now I have enemies to slaughter."
"The time for jabbering over a pint will come later."
"The fight rages. This battle is not yet won."
"To arms! To arms!"
"We will reminisce after this battle is won."
"Your words fall on deaf ears. For now I fight."
Ad blocker interference detected!
Wikia is a free-to-use site that makes money from advertising. We have a modified experience for viewers using ad blockers

Wikia is not accessible if you've made further modifications. Remove the custom ad blocker rule(s) and the page will load as expected.