Ascalon Veteran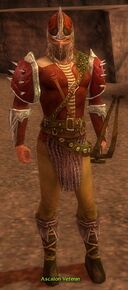 Classification
General
Ascalon Veterans are guards that defend the Great Northern Wall.
Location
Skills used
Dialogue
"If this wall could talk, the stories it would tell..."
"Keep your eyes open and your weapon handy."
"These are trying times."
"This is our last line of defense."
"We need all the help we can get."
During battle:
"To arms! To arms!"
Ad blocker interference detected!
Wikia is a free-to-use site that makes money from advertising. We have a modified experience for viewers using ad blockers

Wikia is not accessible if you've made further modifications. Remove the custom ad blocker rule(s) and the page will load as expected.