Ascalon Engineer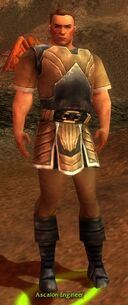 Classification
General
Ascalon Engineers usually appear during missions, but do not serve any purpose.
Location
Dialogue
"If you can get one of these trebuchets working, you might be able to smash a few of those Charr."
"Watch out for the big ones!"
and
"The Charr aren't anything without their claws and teeth. If you can stay away from those, you'll be fine."
Notes
it IS possible to keep them alive, when the Charr attack them during the mission Fort Ranik
Ad blocker interference detected!
Wikia is a free-to-use site that makes money from advertising. We have a modified experience for viewers using ad blockers

Wikia is not accessible if you've made further modifications. Remove the custom ad blocker rule(s) and the page will load as expected.