Artisan of Elements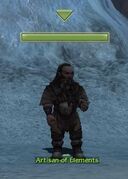 Classification
The Artisan of Elements is one of the Deldrimor collectors who award Deldrimor items in exchange for a Deldrimor Talisman, the Prophecies end-game reward item.
Location
Dialogue
"In exchange for the Deldrimor Talisman you received from King Jalis, I will gladly grant you one of my finely crafted weapons."
Collector Items
Artisan of Elements
Location: Droknar's Forge (explorable)
Collecting: 1 Deldrimor Talisman
Ad blocker interference detected!
Wikia is a free-to-use site that makes money from advertising. We have a modified experience for viewers using ad blockers

Wikia is not accessible if you've made further modifications. Remove the custom ad blocker rule(s) and the page will load as expected.