Artisan Orpah
Classification
Map(s)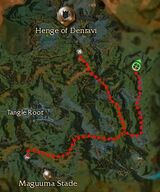 (click to enlarge)
Artisan Orpah is an artisan, i.e. a crafter for rare crafting materials.
For a certain input amount of crafting materials and gold she will craft you the specified amount of rare crafting materials.
Location
Leave from Maguuma Stade and follow the road east briefly, north briefly, then east until you can't go any further. The river ferry and the statue of Melandru will be near to the south at this point. Go north through a blue valley. At the northern end are Artisan Orpah and a collector named Orson Cooper.
A different route is to leave from Henge of Denravi. Take the same path as the primary quest "Passage Through The Dark River" takes you. After you cross the fallen log to the area with many Jungle Trolls, instead of going right as the quest tells you, go left instead. Follow that path and go right when you come to the fork in the road.
Materials offered
For a list of required input materials and gold to be paid see: Artisan
Ad blocker interference detected!
Wikia is a free-to-use site that makes money from advertising. We have a modified experience for viewers using ad blockers

Wikia is not accessible if you've made further modifications. Remove the custom ad blocker rule(s) and the page will load as expected.