Arred the Unready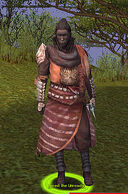 Classification
General
Arred is the leader of the corsairs that were spotted roaming in reclaimed Fahranur.
Quests Involved In
Location
Skills Used
Dialogue
"What do you want from me? I ain't never seen your ugly mug before."
Notes
Even once he has surrendered, Toxicity will occasionally become hostile.
Trivia
Arred may be named after the English King Ethelred II, also known as Ethelred the Unready.
Ad blocker interference detected!
Wikia is a free-to-use site that makes money from advertising. We have a modified experience for viewers using ad blockers

Wikia is not accessible if you've made further modifications. Remove the custom ad blocker rule(s) and the page will load as expected.