Armorsmith of Whispers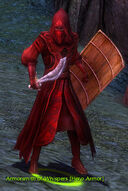 Classification
General
Armorsmith of Whispers accepts Primeval Armor Remnants and produces Primeval armor for all heroes gained in Guild Wars Nightfall. This includes Olias and Zenmai.
Location
Dialogue
"If you recover a set of Primeval Armor Remnants from the demons, I will upgrade the armor belonging to one of your Heroes. Whose armor would you like to change?
Ad blocker interference detected!
Wikia is a free-to-use site that makes money from advertising. We have a modified experience for viewers using ad blockers

Wikia is not accessible if you've made further modifications. Remove the custom ad blocker rule(s) and the page will load as expected.