Arkor Leadfoot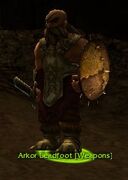 Classification
Arkor Leadfoot is a collector in Boreal Station who collects Burol Ironfist's Commendations.
Location
Weapons Offered
Arkor Leadfoot
Location: Boreal Station
Collecting: 1 Burol Ironfist's Commendation
All weapons offered by Arkor are automatically customized, cannot be sold to merchants, and cannot be salvaged. They do not have an inscription slot but can accept other upgrades.
Notes
Ad blocker interference detected!
Wikia is a free-to-use site that makes money from advertising. We have a modified experience for viewers using ad blockers

Wikia is not accessible if you've made further modifications. Remove the custom ad blocker rule(s) and the page will load as expected.