Archivist of Whispers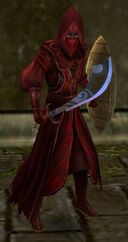 Classification
General
The Archivist of Whispers is a Scribe collector who awards Undead weapons in exchange for an authorized copy of Turai's Story.
Location
Dialogue
"Psst. You must give me any authorized copies of "Turai's Story" you come across so they may be held within the Chantry of Secrets. The story of Turai is an important moment in history and must be secured and preserved for future generations. Do this for the order, and I shall grant you an antique weapon we have recovered."
Collector Items
Archivist of Whispers
Location: Lion's Arch, Kaineng City and Kamadan
Collecting: 1 Turai's Story [Authorized]
Notes
The Archivist of Whispers changes weapon sets. The one pictured (above) is a version of the Archivist of Whispers found in Kamadan.
Ad blocker interference detected!
Wikia is a free-to-use site that makes money from advertising. We have a modified experience for viewers using ad blockers

Wikia is not accessible if you've made further modifications. Remove the custom ad blocker rule(s) and the page will load as expected.