Archer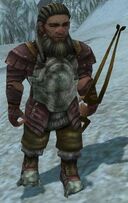 Classification
General
Archers are Dwarven rangers found in Spearhead Peak just outside the Granite Citadel. The group of Dwarves will head south for a short distance, engaging any enemies, before stopping.
Location
Notes
Captain and the two group of Dwarves will not always spawn in Spearhead Peak. Sometimes they will be replaced with a group of Stone Summit and Siege Ice Golems.
Although Archers carry bows they don't actually "fire" them. Instead they can be observed "throwing" with their right hand.
Ad blocker interference detected!
Wikia is a free-to-use site that makes money from advertising. We have a modified experience for viewers using ad blockers

Wikia is not accessible if you've made further modifications. Remove the custom ad blocker rule(s) and the page will load as expected.