There are two items with the name Ancient Remains:
Yort the Bronze's Ancient Remains can be found in the northern part of Prophet's Path during the quest The Misplaced Sword. They mark the final resting place of Yort the Bronze and his Ceremonial Family Sword.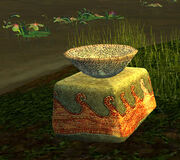 The Ancient Remains of Sinni's father can be found near Lieutenant Murunda in Zehlon Reach. They are guarded by the Lady of the Dead. His spirit can be freed during the quest A Father's Fate.
Ad blocker interference detected!
Wikia is a free-to-use site that makes money from advertising. We have a modified experience for viewers using ad blockers

Wikia is not accessible if you've made further modifications. Remove the custom ad blocker rule(s) and the page will load as expected.