Amadi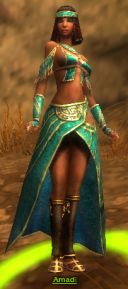 Classification
General
Amadi is an aspiring and promising new actress among the performers in Vabbi. She feels indebted to Norgu for guiding her and giving her opportunities.
Quests Involved In
Location
Dialogue
"Someday I'm going to be famous and travel all over the world. Maybe I'll even perform for the Canthan emperor!"
Ad blocker interference detected!
Wikia is a free-to-use site that makes money from advertising. We have a modified experience for viewers using ad blockers

Wikia is not accessible if you've made further modifications. Remove the custom ad blocker rule(s) and the page will load as expected.