Altar Of Lyssa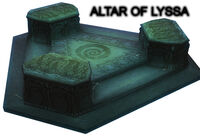 Basic Info
Neighbor(s)
None
The Altar of Lyssa is the Altar you protect in the Grand Court of Sebelkeh (mission). The Margonites try to capture the Altar in the Mission. You must protect it. (For more infomation see Grand Court of Sebelkeh (mission))
The Altar has the same behavior as a Control point in Alliance Battle. It is located in the mission area.
Ad blocker interference detected!
Wikia is a free-to-use site that makes money from advertising. We have a modified experience for viewers using ad blockers

Wikia is not accessible if you've made further modifications. Remove the custom ad blocker rule(s) and the page will load as expected.