Ailonseh Dejarin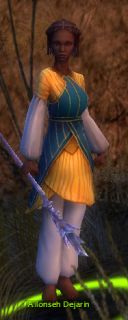 Classification
General
Ailonseh Dejarin is the daughter of Zudash Dejarin and is Koss's only sibling. She was to travel to Istan for safety reasons with a group of Corsairs but was instead being held captive by them. She can be found halfway between Pogahn Passage and Camp Hojanu during The Young Lady Vanishes quest and just east of Yohlon Haven during the Family Ties quest.
Quests Involved In
Location
Dialogue
"My father is a great man. He has always been there when I needed him."
Ad blocker interference detected!
Wikia is a free-to-use site that makes money from advertising. We have a modified experience for viewers using ad blockers

Wikia is not accessible if you've made further modifications. Remove the custom ad blocker rule(s) and the page will load as expected.