This page is about Aiko, a little girl. For more information about Aiko the merchant in Seitung Harbor, see Aiko (Merchant).
Aiko
Classification
General
Aiko is a little girl who lives in Kaineng City with her father, Taojo.
Quests Given
Location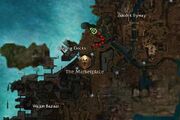 Trivia
Aiko is a common girl's name in Japan.