Ahdari Dohchimahn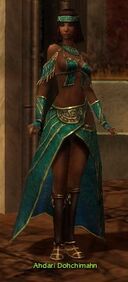 Classification
General
Ahdari Dohchimahn is an NPC found in Resplendent Makuun just outside the portal to Bokka Amphitheatre.
Location
Dialogue
"I wanted to do monsters. I'm a customer. I can make you look so much like a skale, the city guards would fill you wih arrows! Ans...well...that's what happened. But everyone's apologized, and the actor will be fine... eventually."
Quotes
"I need to make a mold of the head of a cobalt shrieker for an upcoming scene. How do you get them to stand still?"
"Hold it! You're the perfect size to wear my rain beetle costume! Tell me... do you get dizzy easily?"
Ad blocker interference detected!
Wikia is a free-to-use site that makes money from advertising. We have a modified experience for viewers using ad blockers

Wikia is not accessible if you've made further modifications. Remove the custom ad blocker rule(s) and the page will load as expected.