Ahbri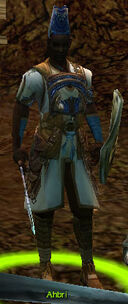 Classification
General
Ahbri is one of eight foolish warriors of the Shauben Clan who stormed, while drunk, into Lahtenda Bog to eliminate the Corsairs and ended up as captives. Rescuing them is the objective of the quest What Do You Do with a Drunken Shauben?
Quests involved in
Location
Dialogue
"Have you heard of the siege turtles they have in Cantha? I'd love to get my hands on one of those for our next raid."
Notes
Ahbri was level 10 and looked like an Istani Peasant before Nightfall was released.
"Ahbri" is named after "Aubree", guild leader of 치 The Spearmen 치.
Ad blocker interference detected!
Wikia is a free-to-use site that makes money from advertising. We have a modified experience for viewers using ad blockers

Wikia is not accessible if you've made further modifications. Remove the custom ad blocker rule(s) and the page will load as expected.