Admiral Saidon the Eternal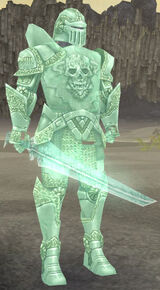 Classification
General
Admiral Saidon the Eternal is one of the Eternals and can be found on the Fissure Shore in the Fissure of Woe. He has no known purpose.
Location
Dialogue
Previously, he did not speak. An update has given the Admiral some dialog:
"The realm of war is a place of eternal conflict. Is there something you'd like to discuss?"
Notes
He is not hostile to any monsters nearby; they all go quite close to him and leave him unharmed.
Ad blocker interference detected!
Wikia is a free-to-use site that makes money from advertising. We have a modified experience for viewers using ad blockers

Wikia is not accessible if you've made further modifications. Remove the custom ad blocker rule(s) and the page will load as expected.