Adhitok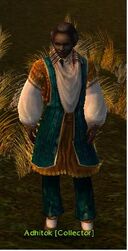 Classification
Map(s)


(click to enlarge)
Dialogue
"I came here to investigate rumors that these plants can cure any illness; even magical ones. We have so many sick people in my home village. The faster I get plant samples, the better chance I have of curing them. Will you help me get 3 Sentient Roots as quickly as possible? I'll make sure you get something in return:"
Collector Items
Adhitok
Location: Plains of Jarin, just outside Kamadan
Collecting: 3 Sentient Roots
Ad blocker interference detected!
Wikia is a free-to-use site that makes money from advertising. We have a modified experience for viewers using ad blockers

Wikia is not accessible if you've made further modifications. Remove the custom ad blocker rule(s) and the page will load as expected.