Acolyte of Lyssa
Classification
Map(s)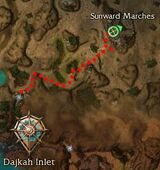 Location in Sunward Marches
Description
Acolyte of Lyssa is a Kournan dervish boss that can be found in Morzek Garrison in the middle of Sunward Marches.
Location
Skills used
Items dropped
Notes
If you're having trouble defeating the boss and have the quest And a Hero Shall Lead Them, you can use the 8 captured sunspears as a bonus fighting force. As long as one of those captured sunspears survives you can even finish the quest.
The greatest advantage of Avatar of Lyssa is the bonus damage when attacking a foe who is activating a skill. Using skills like Faintheartedness to slow down the Acolyte's attack speed helps negate this advantage.
One way to make the fight easier is to wait until the form wears off.
In Hard Mode, this boss will constantly have the form on.
Ad blocker interference detected!
Wikia is a free-to-use site that makes money from advertising. We have a modified experience for viewers using ad blockers

Wikia is not accessible if you've made further modifications. Remove the custom ad blocker rule(s) and the page will load as expected.