Acolyte Wakei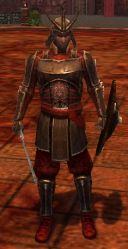 Classification
General
Acolyte Wakei provides some information on the Guild Wars Nightfall PvP Preview Event.
Location
Dialogue
"Greetings. I am Wakei of the Zaishen order. We make our home on an island chain filled with glorious battle arenas. It is here where we train to fight with those we deem worthy of the honor. We are hosting an event these next few days and invite the best gladiators from around the world to join in glorious competition."
Ad blocker interference detected!
Wikia is a free-to-use site that makes money from advertising. We have a modified experience for viewers using ad blockers

Wikia is not accessible if you've made further modifications. Remove the custom ad blocker rule(s) and the page will load as expected.