Acolyte Rockhammer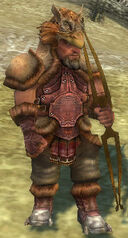 Classification
Acolyte Rockhammer is a Dwarf who is hoping you can help turn the tide for Dwayna this season.
Location
Dialogue
"I am but an Acolyte in the church of Dwayna, yet the Abbot has given me a most holy task to impart. The Azure Shadows, vile creatures of the darkened Underworld, have infiltrated our world and bring power to the merciless god whose name I must not speak. If you gather 1 Frozen Remnants[sic] and bring them to me as proof you have destroyed some of these abominations of the heartless god, I will give you this in return:"
Collector items
Collecting: 1 Frozen Remnant
Ad blocker interference detected!
Wikia is a free-to-use site that makes money from advertising. We have a modified experience for viewers using ad blockers

Wikia is not accessible if you've made further modifications. Remove the custom ad blocker rule(s) and the page will load as expected.