Abbot Silverbeard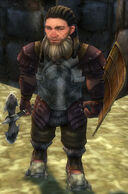 Classification
Abbot Silverbeard is a Dwarf who is hoping you can help turn the tide for Dwayna this season.
Location
Dialogue
"Dwayna's blessings to you in this holy season, good human. It is with a heavy heart that I inform you that our cousins, the Stone Summit Dwarves, have turned their gazes from Dwayna's teachings and walk the dark path. They have enslaved a race known as the Dredge, and they forbid the Dredge to celebrate Dwayna's teachings. This blasphemous activity must be put to a stop! If you gather 3 Stone Summit Badges and bring them to me as proof you have beaten the teachings of Dwayna into their rock-hard skulls, I will give you this in return:"
Collector items
Collecting: 3 Stone Summit Badges
Ad blocker interference detected!
Wikia is a free-to-use site that makes money from advertising. We have a modified experience for viewers using ad blockers

Wikia is not accessible if you've made further modifications. Remove the custom ad blocker rule(s) and the page will load as expected.